This post is overdue, but I wanted to summarize the highlights of the recent Society of Reproductive Investigation meeting we attended 2 weeks ago in Orlando.
Fresh theme and great speakers
The theme of the meeting, was "Data to Discovery". Many of the plenary talks and invited speakers discussed strategies and examples of how we can use "big data" to answer some of our toughest questions in reproductive biology, such as in prenatal diagnosis, and predicting preterm birth.
The second President's Distinguished Lecture – Dr. Stephen Quake's talk "Molecular Stethoscope in Pregnancy" – stood out in my mind as particularly engaging and cutting edge. If you haven't heard of Dr. Quake or read his work, you are missing out on some exciting science. His work on next-gen sequencing is taking prenatal diagnosis to a new level. Read more about him here.
Another session that stood out with its great speakers and cutting edge science was a special symposium on Precision Medicine and Women's Health. Dr. Diana Bianchi updated us on her work on the prenatal management of fetuses with Down's Syndrome: can cardiovascular and neurological outcomes be improved before birth? This burgeoning field of "Fetal Precision Medicine" promises exciting new developments for future therapy. Read more about her work here.
2. 3D Virtual Placentas
On the first day of the meeting, Dr. Bianchi and Dr. David Weinberg (Lead Program Officer of the Human Placenta Project), gave us a Human Placenta Project update. They highlighted an exciting new program: the Placenta Atlas Tool (PAT), which will be a data-sharing tool at the NICHD. It will provide ways to search and curate placenta-focused publications; integrate existing data for model building and hypothesis generation, analyze data; visualize and explore data.
One of the future PAT tools is a "Virtual 3D Placenta". Users will be able to view a physical 3D visual representation of gene expression in healthy or compromised placentas. Different stages of development could be visualized as well. You'll be able to zoom from the gross morphological level to the level of gene expression.
Sounds like a fantastic resource! We look forward to trying it out when it is released. A public beta version is expected to be available early this December (2017)…can't wait!
3. Early investigator and Trainee Workshops
This is the first time I have attended multiple career development workshops at SRI and they were really worthwhile. The negotiation workshop on the first day involved a mock negotiation between experienced faculty, and lots of tips and dos/don'ts from participants.
Connections Corners on Day 2 was also a fun event. The opportunity to mingle with other young investigators/future colleagues and collaborators, along with senior investigators that are there to provide guidance. Different tables were set up each with a unique topic from publishing, to work-life balance. The most popular seemed to be "my first SRI meeting" lead by Dr. Les Myatt, who always seemed to be surrounded by a dozen or more enthusiastic trainees.
4. Scary new science
The plenaries and big speakers were fantastic, but the bulk of the science was in the form of posters and oral presentations from accepted abstracts. There was a lot of exciting science this year. A standout talk from Dr. Kelly Moley terrified the entire audience as she described the multigenerational effects of maternal obesity in a mouse model. Read more about her work here.
5. Sunshine
Leaving Cleveland on a particularly cold and grey day and landing in warm and sunny Orlando was a treat. The conference was held on a Disney Resort, which participants' families took advantage of. The fact that I only ventured outside in the sun for a short walk between sessions once a day tells you how good the science was.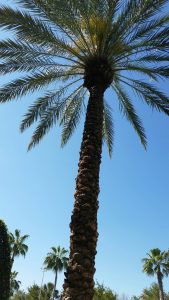 I'm already looking forward to SRI 2018, hope to see you there!